According to a release, a water main break and flooding at the North Fork Rivanna Water Treatment Plan, low pressures occurred in the system.
The impacted neighborhoods include:
Airport Plaza
Airport Road
Briarwood Subdivision
Burgundy Lane
Camelot Subdivision
Cedar Hill Park
Conway Lane
Deerwood Subdivision
Forest Springs Mobile Home Park
Gateway Circle
GE
Hollymead Town Center
Innovation Drive
Leake Lane
Moubry Lane
Northside Drive
North Fork Research Park
North Pines Subdivision
Proffit Road from Leake Lane to Roteu 29
Quail Run
Rivers Edge Lane
Seminole Plaza
Worth Crossing
Click HERE for larger map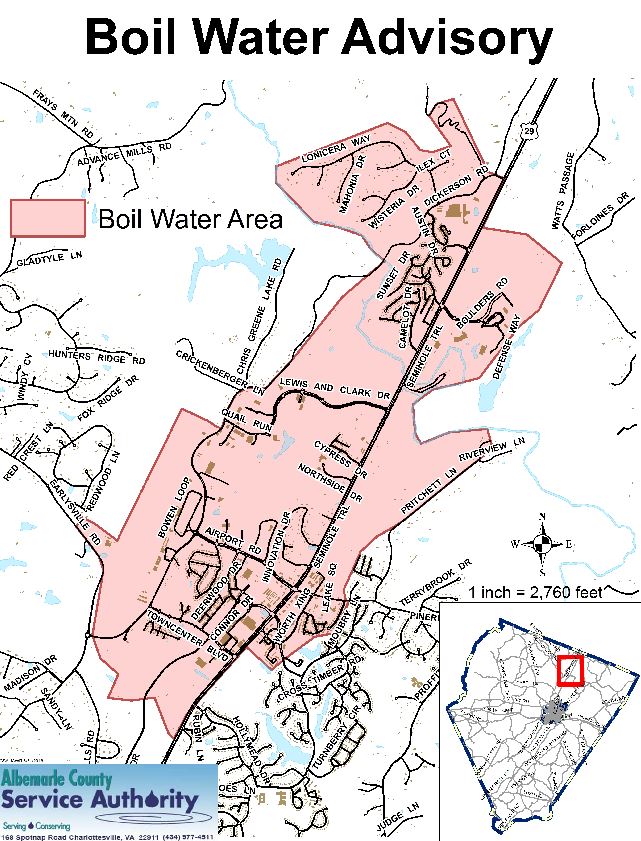 The boil water advisory is in effect until further notice.
Boiled water should be used for drinking, making ice, wash dishes, brushing teeth and preparing foods until the ACSA says it has lifted the advisory.
People with questions can contact the ACSA at (434) 977-4511 or click HERE