Family, sun, and no sunburns! (That never happens).
I hope you had a great Mother's Day weekend.  I made a trip to Roanoke and back home to Charlottesville in a day, and it was all worth it just so I can celebrate with my Mom.  But first, let's start with Friday. It seems that we have some friends hanging out at my apartment complex on an almost nightly basis.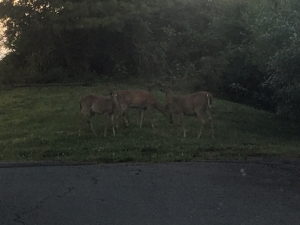 My sister and nephew came in from Roanoke later that night with the idea of binge watching Star Wars movies. We ended up watching about 15 minutes of 'The Last Jedi' and passed out.  The end.
Saturday, however, brought tons of adventure.  After Charlotte got her rabies shot so she can get a much needed summer haircut/grooming session, we (minus the dog) headed to the ACAC outdoor pool because it was only 90 plus degrees outside, no big deal.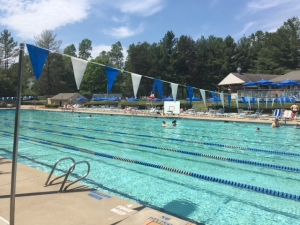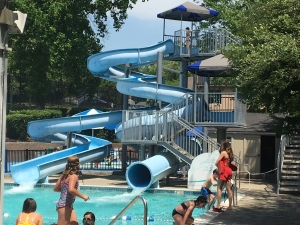 Afterwards, we all ended up stuffing our faces with sushi.  I rolled with (heh heh, see what I did there? Don't forget to tip your bartenders and servers, have a great night!) the VA Beach Roll, the Charlottesville Roll, and the Snow Crab Roll.  I honestly don't remember what was on or in the Charlottesville roll.  Maybe you can tell by the picture? It's on the far left of the plate.  The Virginia Beach Roll was a cucumber roll with mango on top, and the Snow Crab Roll speaks for itself.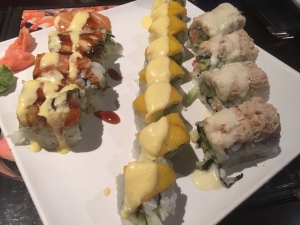 Mother's Day Sunday was a trip to Roanoke to take my nephew back home, while his Mom had to work in Norfolk.  We started the journey by having ourselves a Hardees breakfast, which ended perfectly with a food coma.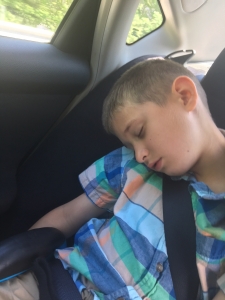 How was your weekend? Feel free to post a pic on our Facebook fan page!