Star Wars Day you say? Cinco De Mayo you say??
Friday was Star Wars Day.  You would THINK I would be sitting at  home binge watching all the Star Wars movies.  You would THINK I would be heading out to dinner with my Girlfriend wearing a chewbacca costume.  Well, i've got news for ya.
I don't own a Chewbacca costume.
BUT, we DID end up at a bar that was showing 'The Force Awakens' on both TV's.  Steve Valentine of Orange also hooked me up with a festive T-Shirt earlier in the week.  Thanks, brother!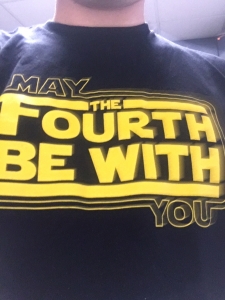 Saturday was Cinco De Mayo! It was a day of margaritas, chips and salsa, more margaritas, more chips and salsa, and pepto bismol.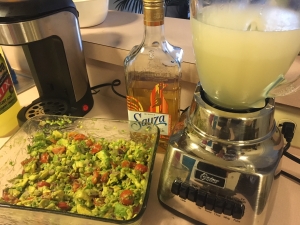 I just moved to a new apartment that had plenty of room for friends to swing by.  Charlotte and I make pretty everything in life a game, so she and I played the 'Who's Going to Greet the Guest First?' game.  Every time the door knocked, she was ready to win.  Naturally, all eyes were on her when people walked in, so I lost every time.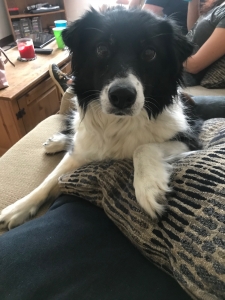 We wrapped the weekend with a long-awaited relaxing Sunday, but I still had did to do a little 'work', and by work I mean fixing a massive breakfast!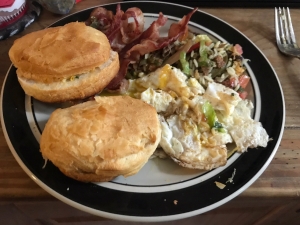 Because when it comes to a weekend breakfast, I never mess around.  Eggs, brown sugar bacon, peppers n rice, and biscuits.  I'm just missing the sausage gravy.  Lord help me, I was in a food como all day.  I hope you had a great weekend as well!